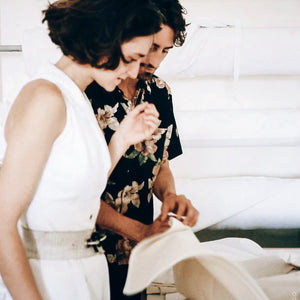 From Paris to NY
Our story
Helena Magdalena was founded by French siblings, Helena and Paul.
Helena created the Sexy Chic Warrior look: Pieces that make you feel elegant, unique and powerful while allowing for freedom of movement and the ability to take action in any situation.
Paul had a vision of a company that leads by example, proving that it's possible to be both ethical and responsible while remaining profitable in the long term.
The founders are from a storied family of entrepreneurs and designers; Helena learned to sew from her grandmother Hanne, who designed the Aubade line of lingerie. Her designs fundamentally changed the industry of intimate wear – and by extension how women view themselves.
After many years of development and experimentation that took the founders around the world seeking distinctive materials and influences, they officially launched the brand in NYC in 2022.